Planning a funeral for an animal may seem like a crazy idea but given how much time and love you put into the relationship you have with your pet, some owners feel that a ceremony to celebrate their furry friend's life is the least they can do.
You may wonder how you go about planning a funeral for a pet. Thinking about where you want your pet's physical body to go is the first step. Whether you choose to have the vet pick up your pet, bury them (please check with you local council as this is often banned for environmental and health concerns) or, you might choose cremation.
When a pet is cremated you are given ashes that can be released or stored. Scattering the ashes by your pets favourite tree or other location is a nice option. Alternatively, you can look at getting a personalised stone for an urn that can be placed in a special spot in the garden. This option is preferable if you rent or are likely to move.
Once you have decided how you want your pet's physical being to be cared for, you can decide on the type of funeral you would prefer. Traditional, or a large party? A celebration of the happiness your pet has brought into your life or a quiet send off? Just humans or for animal friends too?
Just as funerals for people are customised to suit the person who passed and what they would have wanted, the same can be done for pets and their owners. Think about your pet. Are they shy and prefer to be a homebody or are they a permanent fixture in your local community, making friends everywhere they go? Thinking about your pet's nature can help you decide what kind of funeral you would want to hold.  If you're planning on a large affair or just need someone to lean on, ask an understanding friend for support.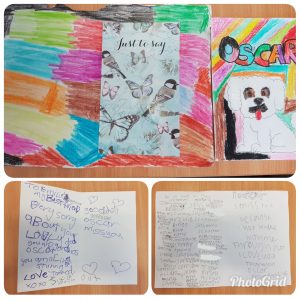 Holding a funeral or ceremony of any sort, can provide people with the opportunity to say goodbye and receive closure. Children in particular may find a funeral helpful in understanding loss; particularly if this is their first time experiencing death. Encouraging them to draw pictures, pulling out favourite photos and making collages are great ways to involve them and encourage them to talk about it in a healthy way. Losing a pet can be emotional and upsetting for everyone and though you may not opt to have a big event, make sure you take the time to say goodbye to your pet.
Find out more information on our pet cremation services or call 1300 543 543 – 24 hours a day, 7 days a week.